Daily we help clients improve their environment. Higher sound insulation gives better privacy, higher speech intelligibility ensures better communication. Low background noise and reduction of noise pollution ensures better concentration and less psychological stress.
Most spaces we encounter need to balance a lot of different requirements. Typically these are aesthetical and economical but also requirements set by law. Using our long experience of real world studio constructions, advanced calculation and simulation tools we can meet these demands while also delivering cost-effective alternatives and solutions, based on real-world data and academic research.
Office Spaces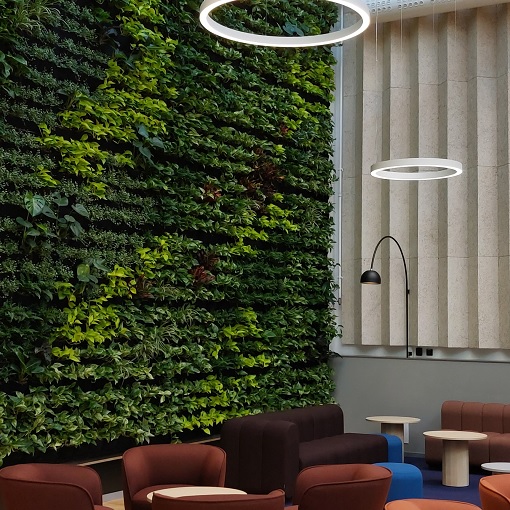 What makes a good work environment and how it should function is an ever-changing process. Lately, technology and work-from-home trends have redefined the "optimal" office space. Clients want collaboration & flexibility but also need to offer secure discussion rooms and silent areas for concentrated work. Fulfilling these demands require a careful integration of room placement/layout, HVAC/Climate control and noise-controlling measures in the form of sound barriers and sound masking installations.
In many projects we create computer simulations of open-plan offices to evaluate the most efficient placement of sound barriers and noise-masking technology to ensure good privacy between desks and workgroups.
Recycling and re-use is also becoming more common, combining plant walls, contemporary furniture as well as re-used materials from previous fit-outs.
Education
Public lectures and teaching situations need a very controlled room acoustic environment to ensure high speech intelligibility. Typically smaller classrooms need carefully designed sound reflectors and diffusors that create support, projection and "reach" for the speaker. A large auditorioum might need assisting technology in the form of wireless microphones and speaker systems to enable sound recording and distribution to all participants.
Example of a project unique absorber / diffusor, made in collaboration with the sculptor Christian Partos for Uppsala Universitet
Retail & Public Spaces
As consumer trends shift, shopping malls and similar retail environments evolve and adapt in order to meet demands. This means inclusion of more cinemas, entertainment venues, food courts, cafés and informal (live) stages as well as spa/healtchare facilities, gyms and trampoline parks - all with different and complex demands on sound insulation and room acoustics.
In these kind of projects we have to take a multi-project approach, treating each individual tenant as a unique situation, co-located in a retail space, where sound and structure borne sound insulation is of utmost importance.
Places of worship
Churces, temples and similar places of worship need suitable acoustics and high speech intelligibility. Sound insulation and room acoustics needs to be controlled to meet contemporary requirements, while often complying with cultural heritage demands that limits visible alterations. "Invisible" speaker systems are often needed to control the sound coverage in rooms with long reverberation times and most of the room acoustic adjustmends need to carefully integrated into the purposed design and existing structure.
Gyms & Sports facilities
Common to most gyms and sports facilities are long reverberation times and high noise levels. As multi-sport facilities become more common clients need to separate and combine relaxation and meditation rooms with nearby load activities such as MMA, weight lifting, spinning rooms, ball sports and group aerobics classes. Neighbors and national laws also set demands on what kind of SPL-levels and impact noises that can be tolerated.
Water arenas, pools and other water based activites often need room acoustic solutions that are moisture resistant and also efficient in reducing long reverberation times and high background noise levels. Computer simulations in order to help design and place the most efficient absorbers are often needed to optimise proposed solutions.
Excessive sound reflective surfaces
in Enskedehallen (prior to adjustment)
Weight lifting activities usually imply heavy structure borne noise disturbances. Specially built-up podiums and similar decoupling structures are often required to reduces low frequency noise in nearby locations.
Other spaces and locations
During the years we have helped to control noise and room acoustic problems in a large variety of rooms, spaces and locations. If you are facing an audio or acoustic problem there's a good chance we have done something similar in the past or already know of a good solution, please contact us and we will try our best to help you.